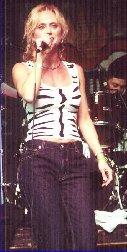 Michelle Ploue, Lead Vocals, was voted Female Vocalist of the Year by Tambalaya Music Magazine. That's her voice on the Lakeside Shopping Center commercial and she recently sang with Rockin' Dopsie on his latest CD. Michelle is a former Miss LSU and holds a Bachelor of Science in Marketing degree. She was the lead singer for Jubilation! for many years. She is the co-writer of most of the band's original material.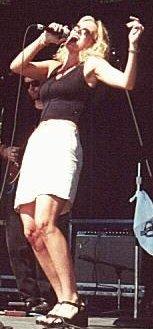 Michelle is no stranger to the stage or large audiences. She has performed for Endymion, The USF&G Sugar Bowl Committee, Back to the Beach, NFL Properties, The Super Bowl Celebration, Catholic Charities, Cancer Crusaders, The Audubon Zoo-To-Do, The Republican Convention, and for numerous other convention groups, corporate parties, and civic events. she has performed with several groups around the New Orleans area including The Jerry Leonard Orchestra, the Jimmy Maxwell Orchestra, The Boogie Men and Burgundy.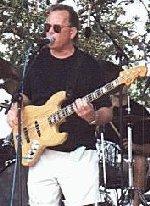 Brad Burris, longtime bassist for New Orleans legend Frankie Ford, holds a Bachelor of Music Education degree from the University of New Orleans and a Master of Music in Performance from Southeastern Louisiana University. He is proficient on a number of instruments including Bass Guitar, Trumpet, Piano, and Guitar.
He was First Trumpet in the Blue Room Orchestra under the leadership of Dick Stabile and later a member of the house orchestra of the Saenger Theater in New Orleans. He performed at Opryland in Nashville, Tenn. and was the leader of the official band of the Louisiana World's Fair. He was a member of Jubilation! performing on bass guitar, as well as vocals. He was also one of the group's principal arrangers.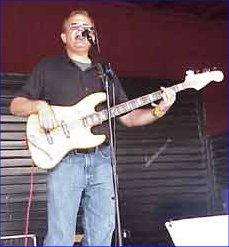 Brad has performed with such musical legends as Jerry Lee Lewis, Chuck Berry, The Temptations, The Four Tops, Doc Severinson, Fats Domino, The Fifth Dimension, The Dixie Cups, Crystal Gayle, Jean Knight, Stephanie Mills, Oliver "Who Shot The La-La?" Morgan, Freda Payne, Helen Reddy, Tommy Ridgley, Mel Torme, Nancy Wilson, Mitzi Gaynor, Rosemary Clooney, Ben Vereen and Bobby Vinton to name a few.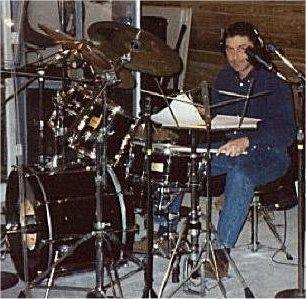 Joe Vicari began playing drums at age five, inspired by his father Frank Vicari and continuing a family tradition of playing drums in the New Orleans area. He started playing professionally with the University of New Orleans show group, All That Jazz, and the Frankie Mann orchestra. He also played in the orchestra for Tulane's Summer Lyric Theater performing Jesus Christ Superstar and Gypsy.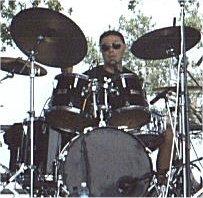 He joined Jubilation! and continued his music career playing numerous Mardi Gras balls, conventions, Catholic Charities, and the Audubon Zoo To Do opening for Kool and the Gang. Joe left Jubilation to become part of the New Orleans Rhythm and Blues Company in order to explore more creative aspects of his music career, and to have a chance to perform original music. Joe has played with other local bands such as Lloyd Alexander, Jimmy Maxwell, Pat Barbarot, Jerry Leonard, Crescent River Big band, Euphoria and notables such as Pete Fountain, Jean Knight, Frankie Ford, The Coasters, Drifters, and the Platters.
"A drummer is a musician's best friend" - Martin Mull
Mike Vila, Guitar, acquired a Bachelor of Music in Jazz Studies degree from Loyola University of New Orleans, studying with Bill Huntington, John Mahoney, John Vidocovich and Joe Hebert. He began a career as a sideman in various groups, namely Rene Coman, Pilot, Herb Tassin, Jubilation, Sun Kim, Jim Maxwell, and Euphoria. He also played with a new wave band, The Tri-Tone Sub.
Mike works at Todd's Music Express as repairman and instructor. Mike has performed with Frankie Ford, The Platters, Coasters, Drifters, Shirelles and Little Anthony and The Imperials. He also does theater work, doubling on banjo, mandolin and uke on shows such as Big River, The Best Little Whorehouse in Texas, Chicago, and played flamenco guitar on Man of LaMancha.
The band augments their sound with a powerful horn section with Steve Burke, Tenor Sax and Jimi Burtchaell, Trumpet.